What is a Facelift of a Car?
A term "Facelift" is used in the automotive industry to describe a mid-cycle update or changes to an existing car model that may be about to be discontinued. It involves making various exterior and sometimes mechanical changes to the vehicle to give it a fresh look and keep it competitive in the market. Automobile enthusiasts in Pakistan eagerly await the latest facelift cars, as they bring a fresh and modern appeal to the market. When it comes to the automotive market in Pakistan, these evergreen facelift cars hold a special place, attracting both seasoned drivers and new buyers with their enduring charm
Facelifts typically occur during a car model's lifecycle, which can last several years. These updates are not as extensive as a completely new generation or redesign of the car but aim to enhance its appearance and features to attract buyers and maintain interest for example changes in headlights, front grills, rims taillights, bumpers, the center console and instrument panel, as well as different body or interior trim items. Upgrades to the engine, suspension, or transmission are examples of mechanical alterations.
Suzuki Baleno (2002-2005)
In 1998, Pak Suzuki replaced the Suzuki Margalla with the Baleno sedan. The Baleno struggled in its early years to replicate the success of its predecessor. The Baleno (pre-facelift) experienced its maximum sales in 1999–2000, when 2,883 units were sold, far fewer than those of the Suzuki Margalla. At that time, when Honda Atlas introduced the facelift for the City SX8 in 2000, it caused a significant decline in Baleno sales once again, cutting them essentially in half. Consequently, Suzuki Baleno sales decreased to just 1,484 units in 2000–01 and 1,188 in 2001–02.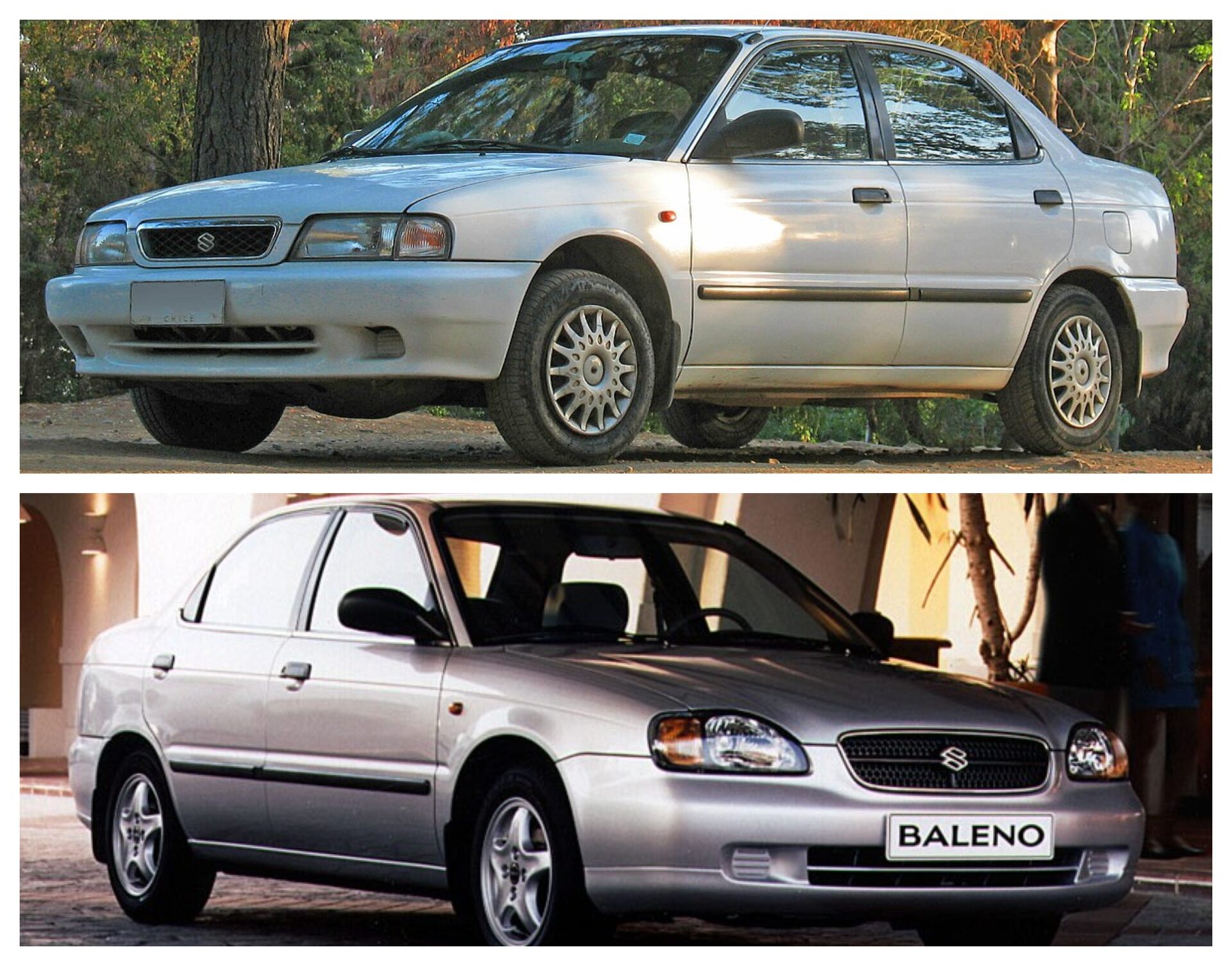 Pak Suzuki launched the Baleno facelift in 2002, introducing an engine immobilizer for the first time ever in the history of Pakistani Automotive Industry, an updated and more intelligent front end, and a better interior. This helped the Baleno's decreasing sales as it was able to sell 2,688 units in 2002–2003, which was twice as many as the Baleno from before the facelift.
Honda City Sx8 (2000-2003)
In January 2000, Honda introduced the City SX8 facelift in Pakistan, and the automobile sector widely recognizes it as one of the most well-known facelifts.
Facelift for the City SX8 included a new, more aggressive front-end style, revised bumpers and taillights, as well as a changed boot lid. A 4-spoke steering wheel, improved instrument panels, revised door panels, and power window switches are among the interior upgrades. A fuel-injected engine (EFi)  was installed in place of the carburetor engine, and an automatic transmission option was also offered. When the Baleno facelift sold 2,588 units in FY 2002–2003, the facelift for the City SX8 sold 3,749 units.
Honda Civic 6th Generation (1999-2000)
Honda produced the 6th Generation of Civic from 1996 to 2000.  In 1999, Honda Atlas introduced a facelift of 6th generation Civic, making some cosmetic changes to refresh the car's appearance and features. Honda intended this facelift to maintain the model's competitiveness and appeal to buyers during its mid-cycle.
The facelift included new bumper designs, crystal headlights, a slightly changed front look, and updated big crystal tail lights. Many frequently recognize the 6th-generation facelift as the most attractive Honda Civic to grace our roads. It also included the "Oriel" variant with a sunroof. This generation is one of the most charming evergreen facelift cars in the history of the Automotive industry in Pakistan.
Honda Civic 7th Generation (2003-2005)
In 2001, Honda introduced the 7th-generation Civic known as 'Cat-Eye' in our local market having a black and grey interior. At that time, Civic lacked features like an optitron speedometer, a beige interior, crystal headlamps, LED taillights, etc., so sales of the Corolla began to vary sharply. The 7th generation Civic eventually received these upgrades in 2003, but sales only marginally increased from 4,687 units to 6,297 units annually until the facelift appeared in 2004.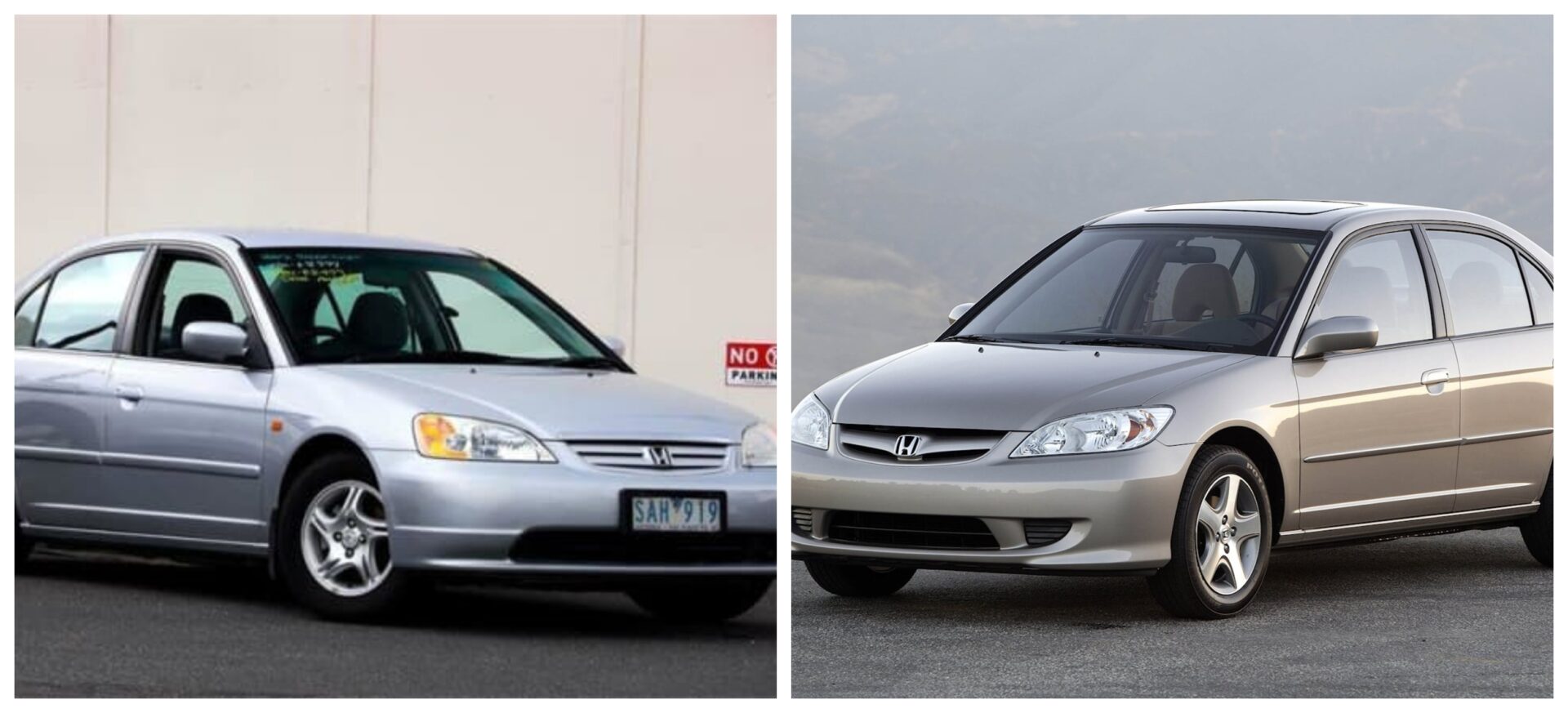 The facelift of the 7th generation Honda Civic typically involved cosmetic updates to the car's exterior and interior, making it more visually appealing and in line with the manufacturer's design language. This facelift known as "Eagle Eye" in our market, completely changed the 7th generation Civic's demeanor and increased sales from 6,097 units in 2003 to 12,352 units in 2004.
Toyota Corolla 11th Generation (2017-Present)
Three years after the 11th Gen launched in our market in June 2014, Toyota (Indus Motor Company) introduced the facelift version of 7th Gen Corolla in 2017 with a few major upgrades in its exterior and interior.
Its boldly updated front face, complemented by extended, up-swept headlamp clusters fitted with LED daytime running lights, amplifies the Corolla's muscular appearance. A bigger air dam on the redesigned bumper gives its front profile a wider stance. They added the DRLs and the Bi-Beam system, which enables a single headlamp to provide both high and low beams, to the LED Projection headlamps.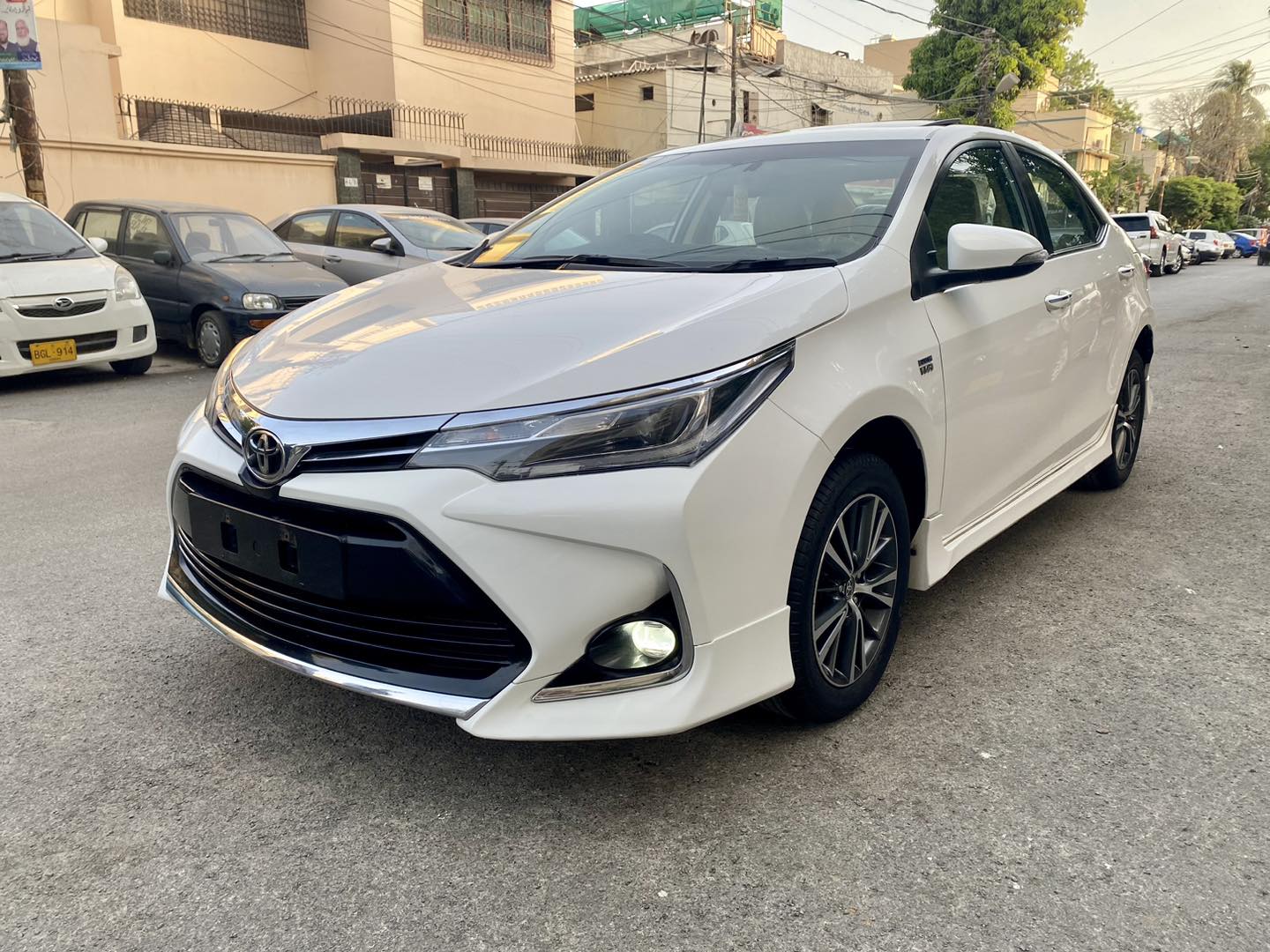 When the key is within range, the Smart entry technology enables you to unlock the doors by just grabbing the door handle. The trunk can also be opened with the touch of a button in the same way. Although the basic style and appearance remain largely the same, they have made minor modifications to the interior. They have added a new climate control panel and circular air vents to the instrument panel.
The top-tier Corolla now comes equipped with a front and rear camera, driver and passenger airbags, Isofix child seat interface, seatbelt pre-tensioners, immobilizer, Electronic Stability Control (ESC), engine start/stop button, a new set of alloy wheels, climate control, and a new multimedia system.
Concluding
These Evergreen facelift cars in Pakistan continue to captivate the automotive market with their timeless design and updated features, appealing to a wide range of consumers