Honda History
If we talk about Honda history in Pakistan, Honda Atlas was founded on November 1992 and the assembly plant opened in April 1993, with the first car rolling off the line in May 1994. Six showrooms had opened in Karachi, Lahore, and Islamabad by July 1994. Basically, Honda Atlas Cars Pakistan is a Pakistani automobile manufacturer that is a licensee of the Japanese automobile manufacturer Honda. Based in Lahore, Pakistan, it is a joint venture between Honda Motor and Atlas Group.
Honda Civic history in Pakistan
Honda Civic was launched in Pakistan in 1994 and got a massive response in our local market. With the passage of time, Pakistani Youth Showed much love, and affections for this car, and our car enthusiasts love to modify this car according to their tastes and level.
Honda Civic (5th Generation / 1991-1995)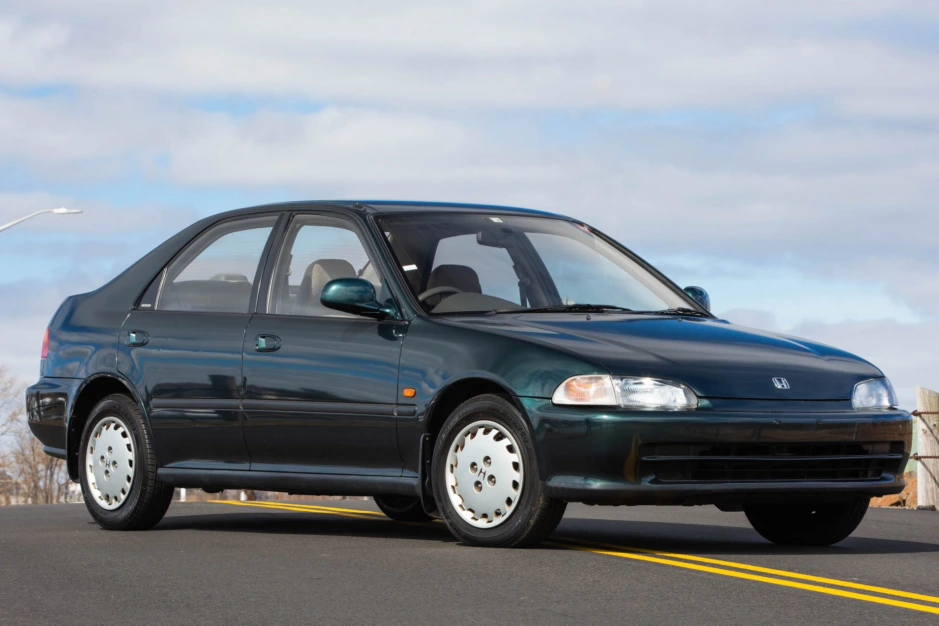 Internationally, This generation was introduced in 1991 and remained in production till 1995 but in Pakistan, locally assembled was available from 94 to 95 only. This Generation is also known as the "Honda Civic Dolphin" in our local market. Initially, CBU units come with a 1300cc carburetor engine but in November 1994, Honda Atlas starts producing locally assembled 5th generation Civic with a 1500cc carburetor engine with a 5-speed manual transmission. There is no Automatic variant available in that generation. Additionally, the CBU unit also has a sunroof whereas locally assembled has no sunroof. This generation got more attention when it is featured in the movie "Fast and Furious" released in 2001. The 5th generation Honda Civic was one of the most popular cars in our country, not only because of its beauty and driving experience but also because of the huge number of customization options it provided.
Honda Civic (6th Generation / 1996-2000)
In January 1996, the 5th Generation of the Honda Civic was replaced with the 6th Generation also known as 'EK'.  This generation also won the 'Car of the Year award in Japan due to its bold styling, enhanced sporty look, and crystal headlamps. The 6th generation Civic was the first locally built car in Pakistan to use variable EFI valve timing engines, with 1.6L VTi and 1.5L conventional fuel-injected engines (EXi) available along with both manual and automatic transmission.
Three years later in 1999, a Facelifted version of the 6th generation was introduced in our market with a more enhanced look of its exterior design. It was the first-ever locally-assembled Honda Civic to have a Sunroof in this version. The 'Oriel' term was given by Honda to its Sunroof variants from that time.
Honda Civic (7th Generation / 2001-2006)
In Pakistan, 7th Generation Honda Civic was Introduced in 2001 and remains in production till its facelift version in 2005-6 known as 'ES'. Initially, This generation got a mature look that's why it got less response than expected. The 7th generation was thought to have lost the Civic Genes, and it wasn't very popular among Civic enthusiasts due to limited modification options. It was, however, a true family car with a high level of comfort and a sophisticated drive.
In our Local market, This generation was available with the option of 1.5L Exi and 1.6L Vti with both manual(5-Speed Manual) and automatic(4 Speed Automatic) gear options. At that time, 'Prosmatic' technology was introduced in this Civic Generation. The 'Prosmatec' transmission provides a smooth ride when ascending or descending hills because the system evaluates driving conditions based on throttle opening and acceleration, and ideally adjusts the timing of gear shifts. So we can say, this was the major technology introduced by Honda at that time.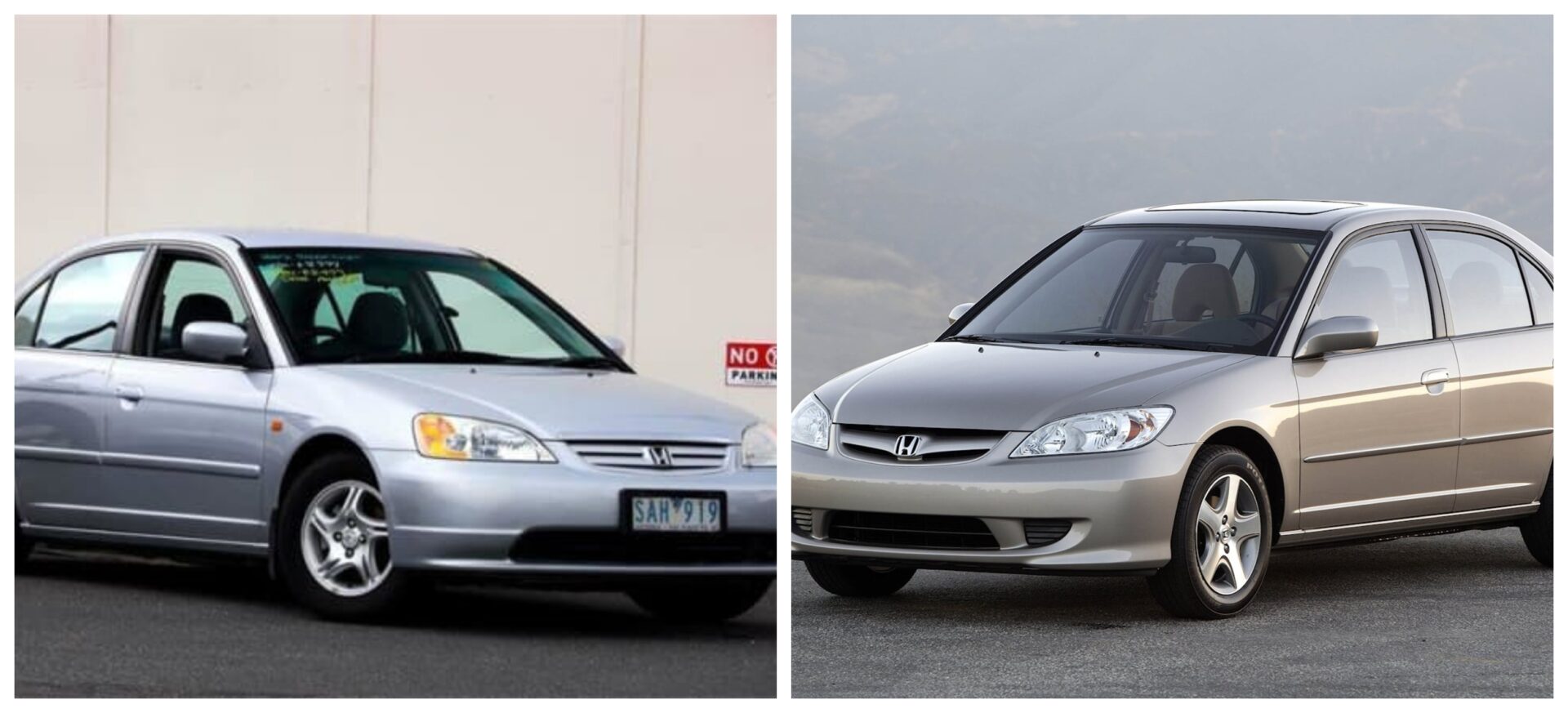 In 2004, 'Facelifted' Version of this Generation was introduced in our market which becomes the 'Game Changer' of Civic. Got a huge response and boost in the sale, due to its dynamic front-end, and larger crystal headlights, After EK9, This facelift was once again one of the best-looking Civics available which is termed as "Eagle-eye" in our local market.
Honda Civic (8th Generation / 2006-2012)
This Generation which is known as 'FD', was introduced back in 2006 replacing the 7th generation and remaining till 2012 in production. Honda totally comes 'out of the box' in the design and structure of this generation. Replacing the 1.5L and 1.6L with its 1.8L (R18) Engine available in both manual and automatic gear options. The two-level cluster panel with digital speedometer, opposite moving wipers, Immobilizer Key, and Airbags debuted in the 8th generation Civic. The main drawback of this generation is only its Fuel Average, because of 1.8L engine without ECO mode. It has the worst average otherwise, this generation has its own charm in all aspects whether it is exterior, interior, or performance. "Reborn" was chosen by Honda in its marketing campaign, and it became so popular that it became permanently connected with this generation of Civic.
Honda Civic (9th Generation / 2012-2016)
9th Generation Honda Civic is the most sophisticated, mature look as compared to its previous generation that's why this generation got less response, and less fame meanwhile, this generation has its own fan base due to its interior which is a more modern look as compared to its exterior.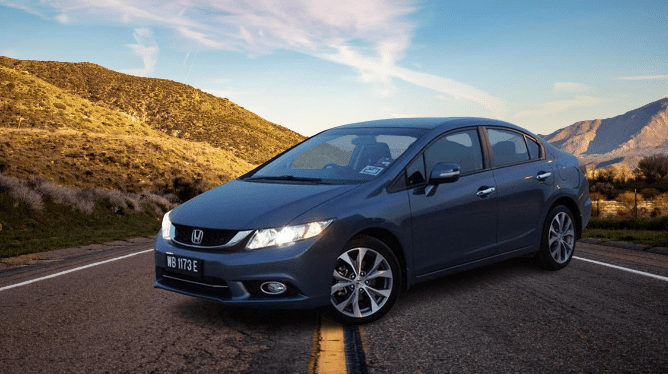 In Pakistan, This generation was introduced in 2012 replacing the 'Reborn' available in both Manual and Automatic gear options.  This generation got the nickname 'Rebirth' or 'Triborn' but internationally, it is known as 'FB'. Honda's Eco Assist technology (ECO Mode), an information system that assists the driver in adopting a more fuel-efficient driving style, is introduced in this generation which makes this car more fuel-efficient and economic as compared to its previous one.
Honda Civic (10th Generation / 2016-2022)
A Re-design interior with a more modern look and the journey of a multi-level speedometer comes to an end in this generation after its previous last two generations. 10th Generation of the Honda Civic was launched in July 2016 in Pakistan and got a huge warm welcome across Pakistan. The C-pillar flows into the tailgate, giving the car a new fastback look. It was developed on a new compact global platform with enhanced dimensions. This Generation usually known as "Civic X" really helped Honda around the globe to boost its sales. It also won several International automotive awards. Initially, Honda Atlas launched two versions of this Civic in Pakistan which is a 1.5L Turbo and a 1.8L naturally aspirated unit. Later on, when the launch of the 1.5L Turbo Civic was in Pakistan, was discontinued immediately because consumers faces engine-knocking issues with it.
In 2019, It was re-introduced as "Civic RS-Turbo" when issues were addressed. In 1.5L Turbo Civic, the rear Infotainment System along with rear AC Vents in the central console was also introduced.